Hello, you little perverts ad welcome back to femdom empire! This crazy hot brunette came around to show us all the way she treats her slave. She is Giselle Leon, as you might know and this kinky mistress loves teasing and fucking her slaves only when they are tied up. Watch her sitting on that man's face, having her pussy eaten out while she offer him some CBT pleasure. If this wasn't convincing enough for you, hit that link bellow and cum inside to convince yourself. Just watch and drool, everyone!
This crazy woman will treat that man like trash, tying him up and sitting on his face for her delight. She will pull hard on his balls which are squeezed in that nice device. She loves teasing him like that and will go so hard on him until he begs for mercy. Just watch her shoving her huge dildo into his mouth or walking him around that red room, pulled by that chain from his collar. Giselle will rub his cock as the dude also enjoys cock control. The crazy hot woman sure knows how to dominate. She is totally nuts and deserves your time. Watch the entire episode back on our website and see how far she can get. I guarantee you will not regret this. Cum inside for more and enjoy another rough session. See you all next time with fresh content! I will leave you now in her company. Have fun!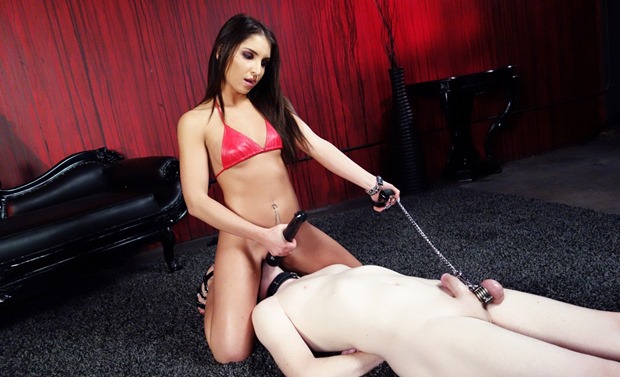 Watch this kinky mistress getting her pussy eaten out!