Hi there! A double dose of mean content will be all over your femdom empire screens in a couple of seconds as these two hot mistresses came around to show us a little about their way of treating their slaves. A blonde and a  brunette will show us the true meaning of rough treatment and I bet this one will give you wet dreams. The two sweet babes are capable of making any man their slave and they sure know how to put him in his place. The two will put his small dick into a box and the slave will also be caged for your viewing delight. Watch and drool.
Any man dreamed, at least once, at a hot threesome with a blonde and a brunette. Well, that lucky bastard had them both, but will he be capable of facing their treatment? That brunette will chain her slave while the other one is putting that cage over him. Now he will not be able to move, so the babes get to serious things, using a cockbox to put his dick and pinching the balls just to show him how a slave should be treated. Just make sure you are ready for this one. I am warning you that the two will be pretty rough with the slave, so get ready for that. Enjoy them chaining him and humiliating him for your viewing delight. We are waiting for you on our website with the entire episode!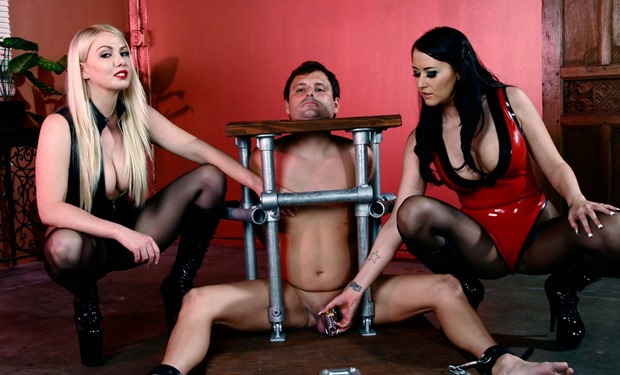 See this submissive slave receiving a rough treatment!